This text was originally published by FAPESP Agency according to Creative Commons license CC-BY-NC-ND. Read the original here.
By Karina Toledo | Agência FAPESP
In experiments with cells cultured in the laboratory, researchers at the University of Campinas (UNICAMP) in the state of São Paulo, Brazil, confirmed that the novel coronavirus SARS-CoV-2 can infect human neurons.
Neuron infection and increased viral load were confirmed by real-time PCR, the technique reference laboratories use to diagnose COVID-19.
The group led by Daniel Martins-de-Souza, a professor in the university's Institute of Biology (IB-UNICAMP), also confirmed that neurons express ACE-2 (angiotensin-converting enzyme 2), the protein to which the coronavirus binds to invade human cells. The group now plan to investigate how neuronal functioning is altered by viral infection.
The research is being conducted under the aegis of a project approved by FAPESP in its recent call for proposals entitled "Fast-track supplements for projects against COVID-19", as an initiative of the task force set up by UNICAMP (read more here). 
"We'll compare the proteins and other metabolites present in the cell cultures before and after infection. The idea is to observe how the pattern of molecules changes and on that basis try to tell the story of how the virus acts in the central nervous system," Martins-de-Souza told Agência FAPESP.
The experiments were performed by Fernanda Crunfli, who was supported by a postdoctoral scholarship from FAPESP. Human brain cells and human neurons obtained from induced pluripotent stem cells (iPSCs) were used in the study.
The method begins by reprogramming adult cells to achieve a degree of pluripotency similar to that of embryonic stem cells. The cells may come from the skin or another easily accessible tissue. This first part was performed at the D'Or Institute for Research and Education (IDOR) by Stevens Rehen, a professor at the Federal University of Rio de Janeiro (UFRJ).
Martins-de-Souza's group then applied chemical stimuli to induce the iPSCs to differentiate into neural stem cells, which are progenitors of various types of brain cell, such as neurons, astrocytes and oligodendrocytes.
"We're also starting on tests with human astrocytes and soon we'll know whether the coronavirus infects these cells, which support the functioning of neurons and are the most abundant central nervous system cells," Martins-de-Souza said.
Effects in the brain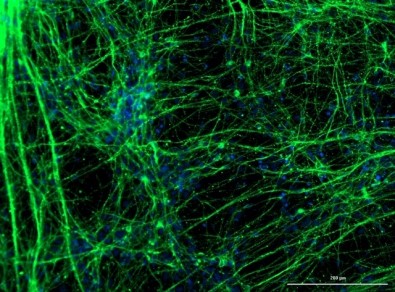 Studies conducted in other countries, he added, suggest that SARS-CoV-2 has tropism for the central nervous system, i.e. a certain propensity to infect nerve cells. "We don't yet know if the coronavirus really can cross the blood-brain barrier [which protects the brain from toxic substances and pathogens present in the bloodstream] and, if so, what effects it has on nervous tissue. We'll be looking for answers to these questions," he said.
The in vitro experiments with viral isolates are being conducted in IB-UNICAMP's Emerging Virus Research Laboratory (LEVE), which is rated BSL-3, the next-to-highest level of biosafety, and led by José Luiz Proença Módena.
Gabriela Fabiano de Souza and Stéfanie Primon Muraro, graduate students supervised by Módena, and Ana Campos Codo and Gustavo Gastão Davanzo, graduate students supervised by Pedro Moraes Vieira, are participating in the tests.
Viral metabolomics and proteomics will be analyzed at IB-UNICAMP's Neuroproteomics Laboratory under the coordination of Martins-de-Souza and two postdoctoral fellows, Victor Corasolla Carregari, supported by a scholarship from FAPESP, and Pedro Henrique Vendramini. In these procedures they will use a mass spectrometer, a device that sorts different substances present in biological samples by molecular weight.
"We plan to investigate whether the amount of a given protein in a sample increases or decreases after infection, and to measure levels of phosphorylation and glycosylation in the molecules. These two biochemical mechanisms are used by cells for rapid activation or deactivation of the function performed by proteins. This will give us clues as to the metabolic pathways that are altered in neurons in response to the coronavirus," Martins-de-Souza said.
Neurological manifestations
In a video available on UNICAMP's website, neurologist Li Li Min comments on the neurological manifestations observed in COVID-19 patients, such as loss of smell and taste, mental confusion, stroke, and muscle pain without injury.
As many as 30% of COVID-19 patients exhibit neurological symptoms, according to Professor Li, head of education and knowledge at the Brazilian Research Institute for Neuroscience and Neurotechnology (BRAINN), one of the Research, Innovation and Dissemination Centers (RIDCs) supported by FAPESP.